Ba Ria-Vung Tau welcomes visitors to first annual Sea Festival
Nautical stripes: Colour dots the landscape at a fishing port in Ba Ria-Vung Tau. — VNA/VNS Photos Hoang The Nhiem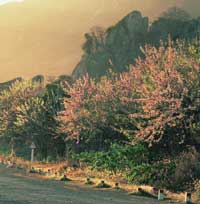 Flower people: Peach trees in bloom at Long Hai Beach resort
Ba Ria-Vung Tau Sea Festival 2006 programme
Tuesday (the first day ): Opening ceremony at an outdoor area in Bai Truoc. Includes a display of relics from the reign of King Thanh Thai; an introduction to Vietnamese cuisine and a giant sand statue competition.
Tours to Con Dao National Park and Prison and other famous destinations such as Long Hai and Ky Van beach resorts will be held.
Wednesday (the second day): Opening of an exhibition and art performances on Ba Ria -Vung Tau culture and Vietnamese calligraphy and its links to the sea.
Thursday (the third day): Meeting Incentive Conference Exhibition (MICE) seminar. Finals of a singing contest and performances by national artists.
Friday (the fourth day): Sea fashion contest, music, cultural and sports activities.
Saturday (closing ceremony): Closing ceremony runs from 7pm to 9pm at Bai Truoc area in Vung Tau City, and features a series of dance and music performances including aquatic dancing and fireworks.
Further information can be found at http://www.festivalbien.com. Call the visitors' hot-line for enquiries on: 064-512 268; 064-512 269, 064-253154 or 064-253159.
(09-04-2006)
This year, Ba Ria-Vung Tau launches the first annual sea festival in order to showcase the region's rich cultural heritage and its array of investment opportunities. Hoang Lan reports.
Coastal province of Ba Ria-Vung Tau launches the inaugural sea festival on Tuesday, which aims to promote the province's culture, history and heroic traditions through a five-day festival programme of entertainment and activities.
The festival, which will be launched in the city centre, will also spotlight the last 15 years of local development.
Highlights during the celebrations include a carnival, a street parade and music and dance performances featured during the festival's closing ceremony titled Rendezvous for a New Day, which is to be held on Saturday.
Each day of the festival also features a multi-media performance combining recorded music, projected images and aquatic dance performances. The event is held from 9am to noon, 3pm to 6pm, and 7pm to 11pm daily.
Festival-goers who like sports should head to the folk games on Wednesday, which include games like tug-of-war, greased pole climbing, human chess and kite flying. Cannons will also be fired at the Bach Dinh relic each day, on Tuesday from 7am to 8am, and from Wednesday through Saturday from 8pm to 9pm.
Additional festival-related activities will be held in various provincial localities, such as Ba Ria Township, Con Dao District and other well-known tourist destinations. These provincial events started last February, giving locals plenty of time to ease into festival mode.
Major pre-festival activities include a marble sculpture camp that will have artists produce modern works based on local historical figures and events, a sand statue contest at the Bien Dong tourist complex in Vung Tau City, a fair and an exhibition at the Paradise Tourist area and a Miss Sea Festival beauty contest.
The official festival programme includes a variety of art performances held during the first day's inaugural ceremony. These include the final round of the Miss Sea Festival, music performances, a fashion show and a seminar titled Ba Ria-Vung Tau: a Destination for Tourists and Investors.
"We truly wish to present the Ba Ria-Vung Tau Sea Festival 2006 as an opportunity for local and foreign investors and businesses to study and explore economic development co-operation in the province, said Pham Quang Khai, vice chairman of the provincial People's Committee.
"We hope to welcome more than 200,000 domestic and foreign travellers to the festival."
Promotional events in conjunction with the festival include Vung Tau Convalescence Tourism Company's new convalescence tourism packages, which allow tourists to pamper themselves and relax in the Binh Chau hot mineral pool, while also enjoying other cultural and sports activities.
Located about 29km from Xuyen Moc Township, the Binh Chau hot mineral pool is surrounded by more than 7,000ha of virgin forests and features 70 small pools.
Other promotional tourism offers include OSC Viet Nam's special long-stay Vung Tau tour and a package that includes a 30 per cent discount on entry to the festival, as well as an upmarket tour which is run by Ba Ria-Vung Tau (Vungtautourist) in co-operation with Sammy Hotel and the Greenlines Ship.
Con Dao water sports
Visitors to Ba Ria-Vung Tau who want to explore the region further can head to Con Dao Island, which is luring an increasing number of tourists with its scuba diving, snorkelling and fishing activities.
About 100km from Vung Tau City off Viet Nam's southern coast, the island served as a prison camp in the past but is now known for its natural beauty. Visitors to the island can board a ship to tour Con Dao's 16 small islands, the largest of which is only 20sq.km wide.
Surrounded by mountains covered with tropical foliage, Con Dao attracts the visitor with an eye for adventure.
"Most tourists enjoy diving to see the coral gardens near islands like Hon Tre and Hon Tai," said one local boatman.
Visitor can drop anchor at Bay Canh (Seven Sides) Island, known for its pristine beaches. It's here that scuba divers get to enjoy some of the most picturesque dives in Viet Nam, thanks to crystal-clear waters, bright sunlight, vibrantly-coloured schools of fish and multi-coloured coral just 10m below the water surface.
"Diving is an interesting way to relax. The deeper you go, the more pristine and beautiful the marine life," says one diving guide.
Rainbow, a foreign company specialising in underwater adventures, has a branch in Con Dao and can provide suits and tanks for those who are willing to take the plunge. Travellers who visit Bay Canh at night can see sea turtles creeping onto the beach seeking a place to lay eggs.
Baking in the sun: People line a popular beach in Vung Tau. — VNA/VNS Photo Thanh Vu
Other activities include fishing at Bai Nhat (Shy Beach) near Tinh Yeu (Romance) Cliff, which is 321m above sea level.
A local fisherman says the fish are abundant in Bai Nhat and Bai Ca Map (Shark Beach).
Fish that are some 3m in length are often caught by locals who use cuttlefish as bait. Locals enjoying the sport along the beach are known to offer visitors friendly advice on the best fishing spots. Groups of travellers can also make a fire to prepare dinner on the beach.
Island authorities report that they plan to attract more tourists, and that more foreign and domestic companies are investing in the island.
A US company is building a four-star hotel and Saigontourist has invested another VND50 billion (US$3.17 million) to enlarge its Sai Gon-Con Dao tourist site and further develop its entertainment facilities. — VNS
Ba Ria-Vung Tau welcomes visitors to first annual Sea Festival have 1264 words, post on at April 8, 2006. This is cached page on WP Discuss. If you want remove this page, please contact us.