More cases linked with hospital's COVID-19 cluster detected
Nine cases of COVID-19 associated with the pandemic cluster at the Hanoi-based National Hospital for Tropical Diseases were reported on May 6 morning.
Of the latest infections, two are relatives of patients being treated at the hospital, the city's Centre for Disease Control (CDC) said.
On the day, the health department of northern Thai Binh province also reported five new cases linked with the hospital's pandemic cluster.
Thai Binh has decided to impose social distancing across the province from 12:00 on May 6, and activate anti-COVID-19 groups.
The two other cases were recorded in the northern province of Hung Yen.
The localities have quickly conducted contract tracing and rolled out measures to seal off pandemic-hit areas.
Located in Hanoi's outlying district of Dong Anh, the hospital was the frontline facility in the COVID-19 fight. On May 4, a doctor of the hospital was confirmed positive for the coronavirus./.
Vietnam prioritises safety for people amid COVID-19
The Ministry of Health will join hands with relevant ministries and sectors to study and recommend the Government the suitable time to apply vaccine passports, with safety for locals being the overriding priority, said Deputy Minister Tran Van Thuan.
Vaccine passport only proves its efficacy until herd immunity is reached, which means around 70 percent of the Vietnamese population get vaccinated, Health Deputy Minister Thuan said at the Government's press conference on May 5.
Currently, no vaccines show 100 percent protection against the SARS-CoV-2 variants, he said, highlighting competent authorities must have meticulous consideration before carrying out the vaccine passport.
Besides COVID-19 inoculation, Thuan stressed that implementation of the Ministry of Health's 5K message: Khau trang (facemask), Khu khuan (disinfection), Khoang cach (distance), Khong tu tap (no gathering) and Khai bao y te (health declaration) will contribute to stamping out the pandemic.
Regarding support policies for local people and businesses battered by the novel outbreak, Deputy Minister of Planning and Investment Tran Quoc Phuong said that the ministry outlined specific support measures in February and have reported to the Government.
Meanwhile, the State Bank of Vietnam has told financial institutions to reschedule debt repayments to help customers affected by the COVID-19 pandemic.
Under Circular No 03/2021/TT-NHNN dated April 2, 2021, the central bank gives permission to financial institutions to reschedule debts with repayment obligations incurred from January 23, 2020 to the end of this year./.
Authorities move to handle illegal entry, exit
Authorities in northern Quang Ninh and Dien Bien provinces and southern Binh Phuoc province on May 5 took actions against persons involved in illegal migration.
Police of Quang Ninh's Hai Ha district said they had officially launched an investigation into and temporarily detained Le Van Kieu, born in 1978, from the nearby city of Hai Phong for organising illegal entry.
Kieu was initially found to have arranged persons helping Luong Thi Xuan (born in 1964), whose passport was granted by the Vietnamese Consulate General in China's Nanning city, illegally cross the border to enter Vietnam.
The case is still under further investigation.
In Dien Bien province, the A Pa Chai border guard post handed over 13 Chinese nationals to Chinese authorities.
Together with 12 Vietnamese, they were arrested on April 18 and 19 for assisting others to illegally exit from the country. They admitted that they had been seeking ways to help several Chinese illegally come to Laos.
Before being returned to Chinese authorities, they had been sent to concentrated quarantine to prevent any possible COVID-19 transmission.
In the southern border province of Binh Phuoc, the healthcare centre of Loc Ninh district said that it received many people with illicit exit and entry transferred from anti-COVID-19 forces on May 4 and 5.
They include six Chinese nationals who were trying to cross the border to enter Cambodia, a Cambodian attempting to come to Vietnam, and seven Vietnamese illegally moving to the country from Cambodia.
They are being tested for the coronavirus and also under investigation./.
Train services on Hanoi-Yen Bai/Haiphong routes to be suspended due to Covid-19
The Hanoi Railway Transport JSC (Haraco) has decided to suspend the operations of the YB3/YB4 trains on the Hanoi-Yen Bai route and the HP1/LP2 trains on the Hanoi-Haiphong route starting from May 8, due to the impact of the latest Covid-19 resurgence in Vietnam.
Before the suspension, the YB3/YB4 and the HP1/LP2 trains were only operational on weekends. The YB3 train departs from Hanoi station on Saturdays and the YB4 starts at the Yen Bai station on Sundays. The HP1 departs from the Hanoi station and the LP2 at the Haiphong station, reported VietnamPlus.
Passengers who booked tickets for these trains can return them to railway stations before the time of departure and will not be charged any fee, a representative of Haraco said.
Passengers boarding trains departing from other provinces to Haiphong City were informed that the northern city had started applying quarantine measures such as quarantining at concentrated quarantine centers, home-quarantining, health declarations and medical monitoring for people arriving from virus-hit localities, starting from May 4.
On the Hanoi-Haiphong route, the LP3, LP5, LP6, LP8 trains are still operational daily.
Earlier, the provincial government of Yen Bai on May 3 issued a dispatch ordering the implementation of social distancing in public places starting from the same day to combat Covid-19.
Vinh Phuc to increase Covid-19 testing capacity fivefold
Amid the complicated Covid-19 situation, chairman of the Vinh Phuc Provincial government Le Duy Thanh asked the provincial Department of Health to augment the Covid-19 sample collecting and testing capacity by five times.
Addressing a meeting held early this morning, May 5, Thanh also tasked the local health authorities with scaling up the number of hospital beds serving quarantine purposes by three times and making preparations to resume the province's Covid-19 field hospital.
Districts in the province were told to complete setting up concentrated quarantine centers and facilitate patrols and tackle people illegally entering the country.
The provincial government will work out and allocate appropriate financial amounts to local units to deal with the pandemic, Thanh added.
The northern province had mapped out Covid-19 testing plans for residents in vulnerable areas such as the Dong Son urban area where the hotspot Sunny Club is located and six coronavirus cases had been reported, the Phuc Yen General Hospital and locations linked to a group of Chinese experts who were confirmed to have been infected with Covid-19.
Besides this, the province will expand its field hospital, add at least 2,000 beds at concentrated quarantine facilities and propose purchasing or renting 10-15 Covid-19 testing machines to meet the testing demand.
As of May 4, the province had discovered over 5,000 people were linked to coronavirus patients through its contact tracing efforts. Further, it had quarantined over 5,700 people and collected the samples of over 2,800 people, according to VnExpress news site.
The Covid-19 community transmission broke out in Vinh Phuc on May 2, reportedly originating from a group of Chinese experts that had left Vietnam. Up to now, the province has reported 14 infections during the latest coronavirus wave.
Big smuggling case at Nhat Cuong Company put on trial
The People's Court of Hanoi on May 5 opened a first-instance trial of a case related to smuggling and violations of accounting regulations which occurred at the Nhat Cuong Technic Co Ltd.
This is one of the five major cases which the Central Steering Committee for Corruption Prevention and Control has required to be tried as early as possible.
At the opening session on May 5, the trial jury announced a decision to cancel the trial against Mai Tien Dung, 38, head of Nhat Cuong Company's used mobile business line, who died due to fatal illness.
Among 14 defendants put on trial, there are three women. All of the defendants have been held in custody.
Two defendants are charged with violating accounting regulations, causing serious consequences, who are Nguyen Bao Ngoc, the firm's finance director, and Nguyen Thi Bich Hang, its chief accountant.
The 12 other defendants, along with Ngoc, are prosecuted for smuggling.
Regarding the charge of smuggling, the indictment said from January 2014 to May 2019, Bui Quang Huy, Nhat Cuong General Director, personally directed the company's staff to conduct 2,502 illegal transactions involving the purchase and sale of more than 255,000 mobile phones and electronic equipment worth over 2.92 trillion VND in total (126.7 million USD) with 16 suppliers in Hong Kong (China).
Huy then contacted and hired smuggling rings to transport the products from Hong Kong to Vietnam and hand over to the Nhat Cuong Company for selling, with a total of 52,811 products sold at a total value of 307 billion VND.
As for the violations of accounting regulations that cause serious consequences, the indictment said in 2014, Huy instructed the firm's employees to set up two different accounting systems, one for internal use and another fake one for public reporting.
The procuracy said that this is a banned act under Article 13 of the law on accounting, which caused a loss of nearly 30 billion VND in tax revenue for the State.
Huy and several other defendants are on the run and have been put on the wanted list by police.
The trial is expected to last one week./.
Humanitarian Month 2021 launched in Hanoi
The Hanoi Red Cross Association held a ceremony on May 5 to launch Humanitarian Month 2021, on the occasion of the World Red Cross and Red Crescent Day (May 8).
With the theme "For a safe community", the month-long event will feature practical activities to build a united, healthy, and safe community amid the COVID-19 pandemic.
Chairman of the association Dao Ngoc Trieu said the event will help raise public awareness and sense of responsibility about the humanitarian work while creating a philanthropic emulation campaign among agencies and people from all walks of life.
He expressed his belief that activities held will help with poverty reduction and new-style rural development in localities.
On the occasion, the association also presented two houses, each worth 50 million VND (2,100 USD), to two poor households in Hanoi's outlying districts of My Duc and Quoc Oai.
The organising board also handed over 20 bicycles and aid to 10 local families and students in need.
At the launch ceremony, the association received more than 11 billion VND in donations from its chapters and enterprises, which will be used to support 7,000-8,000 poor residents, build at least two humanitarian works, and repair 69 Red Cross houses.
As part of the event, a blood donation drive was also launched in Gia Lam district.
Piloted from 2018 to 2020, activities during the month have benefited more than 153,000 people and cost around 53 billion VND./.
Ba Son underground station's ground floor completed ahead of schedule
Construction for the first ground floor (B1) at Ba Son station, part of Ho Chi Minh City's Metro Line No.1 (Ben Thanh – Suoi Tien), was completed one month earlier than the set deadline.
Ba Son is one of the metro line's three underground stations, together with Municipal Theatre and Ben Thanh stations. The station consists of two stories with a combined length of 240 metres, width of 34.5 metres and depth of 20 metres.
The freshly-completed B1 is built with a lobby, ticket vending machines, automatic toll gates, and a passenger information centre. Meanwhile, the platform is arranged at the second ground floor.
Ba Son station is designed with wave-like decorations reminiscent of the Saigon River.
According to Le Van Quang Vinh, manager of the CP1b package (construction of the underground line from Municipal Theatre station to Ba Son station), said that construction of Ba Son station will be fulfilled by the end of May.
The city's first metro line between Ben Thanh Market in District 1 and the Suoi Tien Theme Park in District 9 has 14 stations, three of them underground. There will be 17 trains with three carriages each that will run at a maximum speed of 110km/h above ground and 80km/h below ground.
Construction on the line is now 84.44 percent done./.
Urgent dispatch on concentrated quarantine regulations issued
The National Steering Committee for COVID-19 Prevention and Control on May 5 sent an urgent dispatch requiring the strict implementation of concentrated quarantine regulations and post-quarantine management.
Under the document, the steering committee requests strict management over those entering Vietnam, as well as tighter inspection of concentrated quarantine along with strict punishment of organisations and individuals violating regulations on concentrated quarantine and quarantine at home and place of residency.
Chairpersons of the People's Committees of provinces and centrally-run cities are asked to direct the implementation of concentrated quarantine for at least 14 days followed by home quarantine for the next 14 days for everyone entering the country.
The committee required checking infrastructure at concentrated quarantine facilities to ensure the strict monitoring of quarantined people. Localities must improve the handover, transport and reception of those who complete their quarantine period at concentrated facilities back to their places of residence.
People who return from concentrated quarantine facilities should make daily health declarations for local medical workers. If showing signs of fever, cough, sore throat, shortness of breath, tiredness and loss of taste, they are advised to move to the closest health clinic for timely guidance.
They are not allowed to leave their houses or places of residence. In cases they need to go out for work or other necessary purposes, they are required to report to local police and medical staffs and strictly follow the Ministry of Health's 5K message: khau trang (facemask), khu khuan (disinfection), khoang cach (distance), khong tu tap (no gathering), and khai bao y te (health declaration).
In addition, COVID-19 testing should be conducted on the seventh day since the concentrated quarantine period ends, said the urgent dispatch.
The Ministry of National Defence is requested to direct army-managed concentrated quarantine establishments to seriously follow disease prevention and control measures, while the Ministry of Public Security is asked to direct local police forces to coordinate with medical agencies to manage the health monitoring at home and place of residency for those entering Vietnam./.
First Vietnam International Photography Festival on horizon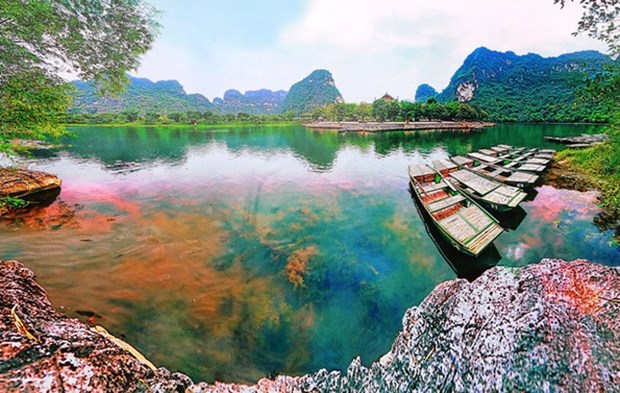 A view of Trang An boat wharf (Photo: hanoimoi.com.vn)
The event comprises a competition to select a logo for the festival, an exhibition in Ninh Binh showcasing 250 photos of Vietnam through the lens of foreign photographers, and a host of symposiums.
The festival, part of activities during the 2021 National Tourism Year in Ninh Binh, is hoped to build brand for Vietnamese photography, thereby promoting the country's image and enhancing international exchanges through photography.
Call for entries is scheduled for May and June, while photo selection in September. The award ceremony and exhibition will be held later this year./.
National inspection drive aims to detect illegal immigrants
The Minister of Public Security has ordered a national examination campaign to discover illegal immigrants in Vietnam, the Ministry of Public Security's Spokesperson Lieut. Gen. To An Xo said at the Government's regular press conference on May 5.
Xo said that under the order, motels, hotels and accommodation facilities across the country will be examined, while the border guards will increase border patrols, and the police will seek illegal immigrants and launch legal proceedings against them and brokers of illegal immigration.
Illegal immigrants who are negative to COVID-19 will be returned to the places they departed, while accommodation facilities violating relevant regulations will have their licences revoked and receive administrative fines and even criminal punishments, he said.
According to the officer, since the beginning of the year, about 150,000 people have entered Vietnam, including 110,000 through land border gates, and 40,000 through flights.
Meanwhile, 39 localities nationwide have reported 199 cases with 1,343 illegal Chinese immigrants. The Ministry of Public Security prosecuted 49 cases with 141 defendants.
"It is crucial to drastically prevent illegal immigrants, as illegally entering Vietnam is violating the country's sovereignty, causing high risks of pandemic outbreaks and affecting the livelihoods of Vietnamese people," he stressed.
The officer added that the major method of organising illegal entry into Vietnam is contacting those wishing to enter Vietnam through the Internet before transporting them to the country.
As Vietnam shares a long border with neighbouring countries, it is easy to cross the land border, he said, adding that through the general examination campaign, localities will report to the ministry major methods of brokering illegal entry into Vietnam, thus put forth effective prevention and combat measures./.
Hoa Binh: mother, son jailed for anti-State propaganda
The People's Court of the northern province of Hoa Binh on May 5 sentenced a woman and her son to eight years in prison each for "making, storing, distributing, or disseminating information, documents and items against the State of the Socialist Republic of Vietnam."
Can Thi Theu, born in 1962, and her son – Trinh Ba Tu, born in 1989, reside in Ngoc Luong commune, Yen Thuy district.
At the court, Theu and Tu confessed that they had created, published and distributed video clips with fabricated and distorted contents defaming people's administration.
Between January 9-14, 2021, they used their Facebook accounts to post eight video clips against the State of the Socialist Republic of Vietnam. They also published video clips inciting people to revolt against authorities, insulting organisations and agencies, and defaming Party, State and Government leaders.
The judge decided that the duo will be under home probation for another three years after their jail terms end./.
Red-shanked douc released to the wild
An individual of red-shanked douc was released into Bach Ma National Park in Phu Loc district, the central province of Thua Thien – Hue on May 5.
The animal, weighing 6.3 kilogrammes, is the queen of primates, and has been listed as critically endangered in the 2007 Vietnam's Red Book. It was found near Ta Trach reservoir by a local in Duong Hoa commune, Huong Thuy town, on April 28.
According to Director of the Bach Ma National Park's management board Nguyen Vu Linh, the animal is in a good health condition.
The Park's staff will keep a close watch on its moving, and ability to integrate into the red-shanked douc herds in the park.
Recent research shows that Bach Ma National Park is home to 15 herds of red-shanked doucs with more than 170 individuals. Since 2017, the park has received and released more than 200 endangered individuals, including Indochinese serows, red-shanked doucs, Indochinese box turtles, and pangolins, among others./.
Exhibition on National Assembly kicks off in Bac Ninh
More than 500 photos and documents featuring the first General Election and development of the National Assembly of Vietnam are being displayed in the northern province of Bac Ninh.
It gives visitors an insight into the formation of the legislative body, the first general election on January 6, 1946, the 75-year journey of the National Assembly.
The exhibition also features activities of delegation of National Assembly deputies of Bac Ninh and the provincial People's Council during 2021-2026 tenure.
The event will last until the end of June./.
Front leader examines election preparations in Kien Giang
The Mekong Delta province of Kien Giang has completed major electoral steps, including the organisation of three consultative conferences, the provincial Election Commission told Do Van Chien, President of the Vietnam Fatherland Front (VFF) Central Committee, on May 5.
The province has also established election groups in localities, stepped up the communication work, and settled complaints and denunciations regarding the upcoming elections in line with regulations.
Candidates for the seats of deputies to the 15th National Assembly and all-level People's Councils have met with voters. Meanwhile, the lists of candidates and voters have been announced.
Apart from measures to ensure security and order during the important political event, Kien Giang has drawn up a COVID-19 prevention and control plan.
Speaking at a meeting with representatives of the provincial Election Commission, Chien, who is also Vice Chairman of the National Election Commission (NEC), lauded Kien Giang's efforts in the preparation work.
Pointing out the high risk of COVID-19 infections as Kien Giang borders Cambodia that is facing a surge in cases, he asked the province to observe COVID-19 prevention and control regulations during the organisation of meetings between candidates and voters./.
Long An supports Cambodian provinces in COVID-19 fight
The Mekong Delta province of Long An on May 5 presented medical supplies worth 150 million VND (6,500 USD) to Cambodia's Svay Rieng and Prey Veng provinces to support their fight against the COVID-19 pandemic.
Meanwhile, the Ho Chi Minh Communist Youth Union and the Youth Federation of Long An also handed over 30,000 face masks, 2,500 litres of sanitizer gel, and 4 anti-bacterial chemical sprayers to the Youth Unions of the two provinces of Cambodia.
The gifts aim to support the two provinces to overcome hard times due to the COVID-19 pandemic, while showing the mutual support and assistance between Vietnam and Cambodia.
On the occasion, Long An also presented 400 gifts to Vietnamese Cambodians in Svay Rieng and Prey Veng./.
Working group for Vietnam-France defence ties meet via videoconference
The working group for Vietnam-France defence cooperation held a meeting via videoconference on May 5 during which the two countries' officials agreed to maintain high-level contact and strengthen links in different aspects.
The event was chaired by Lt. Gen. Vu Chien Thang, Director of the Department for External Relations under the Vietnamese Ministry of National Defence, and Brigadier General Eric Peltier, head of the south bilateral cooperation department of the French army.
Reviewing the cooperation outcomes in the recent past, the two sides noted that Vietnam and France have maintained their cooperative ties in many areas in an appropriate manner.
Despite complex developments of the COVID-19 pandemic, they have sustained high-level contact via videoconference while working closely and rather effectively in other spheres like training, UN peacekeeping operations, and military medicine.
Thang appreciated the French Ministry of Armed Forces' assistance for Vietnam in personnel training, knowledge exchange, and experience sharing.
Particularly, he added, France has sent its experienced experts to provide specialised advice for the Vietnam Department of Peacekeeping Operations under a cooperation agreement between Vietnam and the EU.
For the time ahead, the two sides agreed to maintain high-level contact in suitable forms, in person or via teleconference; organise activities to mark the 30th founding anniversary of defence relations; and enhance ties in hydrography, peacekeeping operations, military medicine, and training.
They will also specify the time for the Vietnam-France defence strategy and cooperation dialogue this year and finalise the defence cooperation plan for 2021-2022./.
'No one left behind' project helps locals start online F&B businesses
The "No one left behind" project in Ho Chi Minh City is offering support to local people who want to start their own food and beverage business online.
Gojek Vietnam, the HCM City Women Cultural House under the HCM City Women Association, and Cafetek, a production of the HCM City Television (HTV), have jointly launched the project.
Relatives of Gojek drivers are also given training to help them start a technology-based business, with the aim of improving their incomes and living conditions.
Under the project, experts from the Women Cultural House and Gojek provide courses on financial planning and e-commerce store management, cooking skills, and knowledge about food safety and hygiene.
After completing the courses, participants receive support to help them become merchant partners of GoFood, a food delivery platform developed by Gojek.
Gojek also helps the participants advertise their products to millions of its users, and gives 2 million VND (87 USD) to each person for cookware purchases.
Phan Thi Bich Huong, director of the city's Women Cultural House, said: "The 'No one left behind' project is part of the cultural house's efforts to help people in the digital transformation era, and create conditions for them to start businesses and improve incomes with the aim of building a sustainable and happy family."
Pham Thi Nam, wife of Gojek driver Ngo Cong Huong, one of the first 50 people participating in the project, said: "I have a passion for food and have been recognised as a good cook. My family encouraged me to open a food store but I didn't know how to begin. Thanks to this project, I have a new start."
The project was initiated by Gojeck Vietnam and Cafetek HTV in 2020, which was initially carried out from April to December.
It provided support for micro-, small and medium-sized shops and hawkers that have been affected by the Covid-19 pandemic by helping them start their business on the GoFood platform.
Dozens of shop owners have become partners on GoFood, and now have more new customers and higher incomes.
Their stories have been broadcast on the HTV9 channel, and have received a warm welcome from TV audiences.
Phung Duc Tuan, general manager of Gojek Vietnam, said: "Supporting our drivers and micro-, small and medium-sized shops and hawkers is one of the key duties of Gojek. By helping them join the digital economy, we give them a chance to improve their incomes as well as contribute to social and economic development."
"The cooperation with the Women Cultural House and Cafetek HTV helps us implement the project more effectively. I believe our work will create a positive impact for people who dream of starting their own business," Tuan said.
The 2021 "No one left behind" project is expected to be broadcast at 8am on Sundays on HTV9 and at 7.30pm on Wednesdays on HTV7 in May./.
NA leader inspects preparations for elections in Ha Giang
National Assembly (NA) Chairman Vuong Dinh Hue, who is also Chairman of the National Election Council (NEC), inspected preparations for the upcoming elections of deputies to the 15th legislature and members of all-level People's Councils for 2021-2026 in Lung Cu commune, Dong Van district, in the northernmost province of Ha Giang, on May 5.
At a working session with leaders from Ha Giang and heads of the Election Committees of the province and Dong Van district, the top legislator lauded the efforts of the locality in preparing for the election, which have been conducted in line with regulations and made good progress.
He said he was impressed at the personnel work of Ha Giang, which meets requirements regarding the structure of candidates for election as deputies to the NA and People's Councils at all levels.
Hue also hailed Ha Giang's election communications and its organisation of election campaigns and training courses.
The NA Chairman also suggested that Ha Giang carefully review its list of voters, thus ensuring the rights of all local residents, while providing a proper response to all complaints related to election activities and candidates.
The locality should also strengthen the application of media efforts to increase communications on candidate information, while strengthening the application of information technology in organising meetings with voters.
He said from May 14, communications through mobile phones will be launched to remind voters to choose the best candidates to the NA and People's Councils at all levels.
Along with preparing for the election, Ha Giang should also focus on boosting economic development and ensuring security-defence, especially along its shared border.
On the same day, Hue attended a flag hoisting ceremony at the Lung Cu flagpole.
He also visited the Lung Cu border post and witnessed the presentation of 5 billion VND from the Bank for Investment and Development of Vietnam (BIDV) to Dong Van district's General Hospital.
Earlier, on May 4, the top legislator and his entourage offered incense to martyrs at the Vi Xuyen National Cemetery for Martyrs, where 1,800 martyrs are laid to rest. He also presented gifts to 20 policy beneficiary families in Thanh Thuy commune, Vi Xuyen district.
Meanwhile, NA Vice Chairman Do Ba Ty on May 5 examined preparations for the upcoming elections in the south-central province of Phu Yen./.
Border provinces step up efforts to stop spread of COVID-19
Provinces and cities across Vietnam, especially border areas, are stepping up their COVID-19 prevention and control efforts.
Dong Thap provincial border guards are making efforts to prevent people from entering the province illegally from Cambodia to stop the virus from entering the community.
At about 4.30am on May 3, during patrol duty on the So Thuong River in Thuong Thoi Hau A commune, Hong Ngu District, the border guard discovered 14 people, including 11 adults and three children, on seven wooden boats, preparing to illegally enter Vietnam.
Previously, on May 1 and 2, they discovered 55 people travelling in 23 vehicles to the border on the Tien River to prepare to illegally enter the country.
On Dong Thap southern province's 50.5km long border with Cambodia, comprising 40km of the river border and 10.5km on the mainland, the border forces deployed 21 fixed posts and 18 mobile control teams on patrol duty.
Meanwhile, in the northern mountainous province of Ha Giang, hundreds of soldiers have been deployed on the Vietnam-China border for border management and protection and COVID-19 pandemic prevention and control.
Colonel Luu Duc Hung, Political Commissar of the Ha Giang Border Guard Command, said the provincial border guards have worked with other forces to maintain operations of all fixed control posts, mobile teams on the border, supplement the establishment of posts when necessary to ensure tight control at the border gates and trails.
"We are determined to fight the pandemic from the border and carry out the 'dual task' of managing and protecting the sovereignty and preventing and combating the COVID-19 pandemic," he said.
Ha Giang has more than 277km of border with China. Due to the complex terrain and long border, illegal entry and exit activities are very complicated to handle.
Major Ta Tan Hoang, Director of the Xin Cai Border Guard Station in Meo Vac District, said pandemic prevention has been activated at the highest warning level.
In all 69 medical posts across the province, in addition to measuring body temperature and sterilising surfaces, people from other provinces and cities entering Hà Giang are instructed to make a medical declaration.
On May 3, Chairman of the Lạng Son Provincial People's Committee Ho Tien Thieu checked prevention and control activities in a number of key units and areas in the province.
At Huu Nghi International Border Gate, Thieu said the pandemic was developing in a complex manner with many cases of community infection in some provinces and cities. Therefore, the forces on duty at the border gate must uphold their sense of responsibility, promote vigilance and strictly comply with pandemic prevention measures.
At Tan Thanh Border Gate, many drivers still do not wear masks and many people gather at restaurants and yards with a potential risk of spreading the disease. Thieu asked the forces on duty here to take measures to prevent and control the pandemic under the Ministry of Health's guidance.
He called for pandemic checkpoints on both access roads to the Tan Thanh bus station to ensure strict control of people and vehicles entering and leaving, and require all people entering and leaving the area to be medically examined, wear masks and keep a safe distance./.
Eighty journalists take up jab offers amid Covid-19
The Ministry of Health coordinated with the Pasteur Institute to organize the Covid-19 vaccination camp for reporters and editors. As per the Ministry of Health's plan, 80 journalists in Ho Chi Minh City will take up Covid-19 jabs.
A journalist is one of the first groups to be offered the Oxford-AstraZeneca vaccine jab against Covid-19 according to Resolution 21 of the Government.
Journalists wore facemasks and declared their health status at the vaccination locations. All of them were safe after immunization.
Journalist Hoang Loc from Tuoi tre newspaper, one of those who arrived at the vaccination location early, said that journalists are at higher risk of contracting the disease because they have to contact many people and enter hotspots of Covid-19 to write articles on the development of the pandemic.
Journalist Hoang Lan  of Ho Chi Minh City Law newspaper said that she was a little concerned and worried before the injection yet she felt comfortable after receiving the jab. She said she has no side effects after vaccination.
Currently, Ho Chi Minh City is organizing the second injection of Covid-19 vaccine for medical workers who were more likely to have been on the "frontline" of Covid-19 care namely emergency medicine, critical care specialists, and anesthesiologists , the steering committees for epidemic prevention at all levels, police forces, and soldiers.
So far, more than 45,000 people have received Covid-19 shots. Those suffering post-injection reactions have been treated and all are stable.
Vietnam tightening cyber security on national citizen database
The Ministry of Public Security yesterday held a meeting in Hanoi with the Steering Committees of the 'National Population Database' project and the 'Chip-based Citizen ID Card Issuance' project.
Statistics reveal that until now, the 'National Population Database' project has been able to synchronize necessary information of over 98 million citizens of Vietnam.
Meanwhile, until April 27, the local police departments in 63 provinces and cities nationwide finished recording personal information of more than 33 million people for chip-based ID card issuance.
Minister of Public Security To Lam suggested that in the upcoming time, related state officers need to pour more effort in organizing information in the national population database to ensure concise, precision, and sufficiency before July 1.
The task of cyber security maintenance must be of the highest priority at all time, while the inner-link and inter-link between this database and other national ones should be enhanced simultaneously.
Universities turn to online learning as pandemic continues
In light of rising concerns about the spread of Covid-19 and calls to contain the virus, a growing number of public and private universities in Vietnam have shut down in-person classes after April 30 and May Day holidays.
Specifically, Hanoi University of Science and Technology asked lecturers and students to use Microsoft Teams for online teaching and learning from May 4 to 9 while experimental sessions and practice are paused until further notice.
Similarly, Foreign Trade University required students in campuses in Hanoi and the Northern Province of Quang Ninh to take online classes from May 4 to 16. The school must ask for permission from the National Steering Committee for Covid-19 Prevention and Control if it opens in-person classes.
The management board of the Academy of Journalism and Propaganda also decided to switch to online learning from May 4 until there is a new announcement. Students at the Transportation University also made the switch to online classes instead of face-to-face classes from May 3.
The University of Transport Technology, the Faculty of Law of the University of Social Sciences and Humanities, University of Natural Sciences, University of Thuyloi, Hanoi University of Education 2, Banking Academy, University of Commerce, University of Business and Technology followed suit.
Prior, the Hanoi University of Natural Resources and Environment, Hanoi University of Finance and Banking, Ho Chi Minh City University of Technology and Education had announced teaching and learning via the internet to prevent and fight against Covid-19.
Cai Chanh military base recognised as national special relic site
A ceremony recognising Cai Chanh military base as national special relic site has been recently organised in Ninh Thanh Loi commune, Hong Dan district, Bac Lieu province.
Pham Van Thieu, chairman of Bac Lieu People's Committee asked the local Department of Culture, Information, Sports and Tourism to preserve and promote the relic site in line with legal regulations on cultural heritage and develop distinctive tourism products to attract visitors.
During the celebration, the Ministry of Culture, Sports and Tourism transferred the certificate recognising Cai Chanh Military Base as the national special historical site to Bac Lieu province.
Cai Chanh Military Base is located in Cay Cui Hamlet, Hong Dan District. From 1949 to 1952, high-ranking officials of the Central Directorate for the South worked at the military base to lead revolutions in the southern region.
On January 26, 2011, Cai Chanh Base was already recognised as a national historical site./.
Hue Traditional Craft Festival to run for a month
The Hue Traditional Craft Festival will be held for one month for the first time, from May 29 to June 26 in Hue city in the central province of Thua Thien-Hue.
More than 40 art performances will be organised, gathering together a large number of artists, actors, and artisans.
The biennial festival is expected to dazzle participants with several new activities compared to previous editions.
It will feature a wide range of events, such as a craft design contest, the Hue Culinary Festival, a sculpting camp, an "ao dai" (Vietnam's traditional dress) week, and a book exhibition.
The month-long festival will hold special activities on weekends to attract more visitors to the city.
The 2019 edition attracted around 400,000 visitors.
Steering committee talks review of implementation of Party resolution on agriculture
The Party Central Committee's Economic Commission on May 4 held a meeting of the steering committee for reviewing the 15-year implementation of a Party Central Committee resolution on agriculture, farmers, and rural areas.
The steering committee for reviewing the realisation of Resolution No.26-NQ/TW on agriculture, farmers, and rural areas, issued at the seventh plenum of the 10th-tenure Party Central Committee in August 2008, was established under Decision No.02-QD/TW, dated March 26, 2021, by the Party Central Committee Secretariat.
Chairman of the Economic Commission Tran Tuan Anh said agriculture, farmers, and rural areas always hold a particular importance to socio-economic stability and development, and they are also a strategic issue in the national industrialisation and modernisation process, as well as the Party's revolutionary cause.
Given their significant role, the Party's consistent viewpoint is to develop agriculture and rural areas and to unceasingly improve farmers' living conditions, he said, adding that many important resolutions and documents on this issue have been promulgated by the Party, including Resolution No.26-NQ/TW and the Politburo's conclusions in 2014 and 2019 on the continued implementation of this resolution.
The documents of the 13th National Party Congress earlier this year once again emphasised the issue of agriculture, farmers, and rural areas, mentioning such critical aspects as promoting agricultural restructuring, developing rural economy in tandem with building new-style rural areas, and developing large-scale and modern agriculture.
They also underlined the need to encourage ecological, organic, smart, high-tech and digital agriculture adaptive to climate change, along with the continuation of the new-style countryside building programme in an effective and sustainable manner.
Anh noted that the 13th-tenure Party Central Committee is considering the review of the resolution execution and the building of another replacing Resolution No.26-NQ/TW to submit it to the Party Central Committee at the fifth plenum in early 2022, showing the necessity and significance of this issue to national development in the time ahead.
He asked the steering committee and relevant agencies and individuals to thoroughly look back on the achievements, failures, and lessons during the resolution implementation so as to seek ways to optimise human, natural, and social resources for agricultural, rural, and socio-economic development.
The new resolution must open up a new era in caring for the people, especially farmers, and agricultural and rural development, the official added./.
Remains of Vietnamese martyrs repatriated from Laos
A memorial and burial ceremony was held by the authorities of Quang Tri province on May 5 for the remains of 24 volunteer Vietnamese soldiers and specialists who sacrificed their lives in numerous battles in Laos during their international missions.
Speaking at the event, Hoang Nam, vice chairman of the provincial administration, praised the contributions made by the fallen Vietnamese soldiers to the revolutionary cause.
Their contributions served to help tighten the solidarity and special friendship that exists to this day between the Parties, States, and people of both Vietnam and Laos, Nam added.
The remains of the martyrs were returned to the nation from Laos during the 2020-2021 dry season. They were laid to rest at the Road 9 National Martyrs Cemetery in Quang Tri province.
This marks the 35th time since 1993 that Quang Tri has received and reburied the remains of volunteer Vietnamese soldiers and experts who laid down their lives in Laos.
Vietnamese students in Laos get support amid COVID-19
The Vietnamese Embassy in Laos on May 4 handed over gifts to Vietnamese students at the National University of Laos (NUOL) who are facing difficulties from the COVID-19 pandemic.
Presented by Vietnamese Counsellor of Culture and Education Tran Dai Thang and the officer in charge of community work, Vu Tu Oanh, the gifts include 1,000 medical masks and foodstuff.
Amid the complex developments of the pandemic, Lao medical staff in cooperation with the Vietnamese Association in Vientiane conducted COVID-19 testing on Vietnamese living and working in Thatluang, Naxay and Sisangvone wards and the area around the NUOL.
Those showing symptoms will be placed in quarantine and receive timely treatment.
Risk of COVID-19 outbreak due to illegal immigration
In recent days, further new COVID-19 infections have been reported in the country. Notably, through epidemiological investigation as well as the tracking and contact of health agencies, the police defined that they were all foreigners or those had contact with foreigners.
This has really become a serious and worrying issue, especially with the series of illegal immigration cases that have just been discovered. On May 2, the police from the districts of Cau Giay and Nam Tu Liem, in collaboration with the professional departments of the Hanoi Police, detected 46 Chinese illegal entries who were renting nine rooms in the Florence apartment at 28 Tran Huu Duc Street, Cau Dien Ward, Nam Tu Liem District. The police are fighting to clarify the "hole" that let Chinese people enter the country illegally. The Security and Investigation Agency of the City Police has just prosecuted two women who rented an apartment and then brought dozens of Chinese people in. Their motive was the benefit of hundreds of millions of Vietnamese dong from these Chinese subjects' illegal acts.
More seriously, a member of the Covid-19 anti-epidemic control group of Ban Lau Commune, Muong Khuong District, in the northern mountainous province of Lao Cai, acted as an "inside-hand" for a team that brought 200 people to immigrate illegally for 91 times. Most recently, the Vinh Phuc Provincial Police's Security and Investigation Department has coordinated with Vinh Yen City's Police to detect and detain 52 Chinese people who illegally entered and have been residing in the province. The case was discovered in the context of the complicated development of COVID-19 epidemic in the locality.
According to statistics of the Ministry of Public Security, around 100-150 people have been trying to enter illegally Vietnam per day. Although the functional forces have been working hard to prevent illegal entry, many cases have been worked out. This shows that there is still a "gap" in the control of the borders. If the illegal entries continue, the country will not be able to prevent the epidemic from the root, but through localising and detecting infections.
The loss of control over COVID-19 is entirely possible in Vietnam if we do not promptly prevent all risks, including illegal entry, and not strict manage people entering Vietnam, especially those coming from countries affected by the pandemic. Looking at the above cases and statistics, it can be seen that people who enter illegally are a threat that can cause a "breakdown" in the anti-epidemic efforts of the country that has been preventing and controlling COVID-19 effectively. Despite the dangers, several local people have been still irresponsible when they are ready to assist people entering illegally cross the borders. Therefore, it is necessary to soon prosecute these subjects with a strict penalty in accordance with the law to create deterrence.
In addition, it is crucial to develop a solid "defence" system with the border protection as the front line. The Border Guard needs to coordinate with other forces to continue strengthening measures to prevent and combat illegal entry and exit as well as enhancing the COVID-19 prevention and control in the current period. In the border areas, the inspection and control should be tightened at the border gates, trails and open paths, focusing on key directions and areas. The functional forces should firmly grasp the epidemic status, make prompt forecasts and advise local committees and authorities to develop plans to direct the appropriate response to each epidemic level in line with the actual situation.
For the domestic "defence" line, the police force needs to continue to open a rush to attack criminals related to illegal immigration. The Immigration Department under the Ministry of Public Security should directly coordinate and guide the local Police to grasp the situation and closely coordinate with the Border Guard force to strengthen the inspection and control at the border gates, trails and opening paths on border routes towards the prompt detection and prevention of any illegal entry or exit. The department should instruct the local police to strengthen the management of foreigners staying in the locality promptly detect and propose handling illegal entries and stay at the localities in accordance with the law and regulations on COVID-19 prevention and control.
It is also essential to enhance the state management of security and order, especially in residential management, foreigner management, and the management of investment and business sectors in terms of security and security. The relevant agencies should pay great attention to grasping the situation of households and people and solving security situation in the local area, while conducting the coordination of patrol forces, notably with the locals, such that each citizen becomes a "scout" in the fight against the epidemic.
Dong Nai Province ceases some non-essential activities
The People's Committee of Dong Nai Province asked to suspend non-essential activities like festivals, night markets, spa, beauty salons, game rooms, cultural entertainment shows, etc from May 5 until further notice amidst the current Covid-19 surge.
As for the goods services, Dong Nai Province required all business owners have to comply with the Covid-19 pandemic prevention and control regulations, especially wearing facial masks and washing hands with antibacterial gels.
Food and beverage businesses are recommended to limit the number of customers in areas of food and beverage service like coffee and milk tea shops, keep a safe distance between customers, change their business model to food delivery and takeaway during this time.
Regarding religious activities and meetings, it is necessary to balance the number of participants not exceed 50 percent of normal seating capacity. The organizers must strictly perform checking temperature, wearing facial masks and spraying disinfectant.
Heads of the People's Committee at all levels propagate, mobilize and guide families about the Covid-19 pandemic prevention and control measures to apply to weddings, celebrations and funerals in the locality.
Da Nang proposes suspending repatriation flights from foreign countries
Amidst a high risk of the Covid-19 pandemic infection, Chairman of the People's Committee of Da Nang City Mr. Le Trung Chinh yesterday submitted a report and proposed the Prime Minister, the Ministry of Transport and the Ministry of Foreign Affairs to allow the city to suspend repatriation flights carrying overseas Vietnamese citizens.
According to the report, from the beginning of the year to May 2, Da Nang City welcomed around 11,800 entries. Particularly, from April to now, the beach city in Central Vietnam has received and carried out centralized quarantine for over 8,000 overseas entries.
From March to now, the city has continuously recorded 61 cases who are people on entry with positive testing for the coronavirus.
On the other hand, the Da Nang Lung Hospital has received and treated Covid-19 cases causing high pressure on medical staff. Especially when the city has seen Covid-19 cases in the community. In addition, functional forces performing the task of monitoring medical isolation are also overloaded.
To create conditions for Da Nang City to implement Covid-19 pandemic prevention and control and effective treatment of Covid-19 cases in the coming time, the People's Committee of Da Nang City asked for permission not to receive the flights carrying Vietnamese citizens from foreign countries into the city.
The municipal People's Committee also petitioned the Prime Minister and the Ministry of Health to provide more specific guidance to support localities to well implement following regulations and effectively perform the hand-over, reception, management and supervision of people after centralized isolation period.
Authorities in HCMC detect Covid-19 rule violators
Yesterday evening, inspectors in Ho Chi Minh City paid an unscheduled visit to KTV restaurant detecting a Chinese man who broke Vietnam's Covid-19 prevention guidelines.
The inspection team led by Deputy Chairman of the municipal People's Committee Duong Anh Duc visited some karaoke parlors and restaurants in District 1.
Inspectors discovered four Japanese, four Chinese and tens of Vietnamese people didn't wear facemasks as per the Ministry of Health's regulation. Worse, amongst four Chinese men, expert LuoRongFan of Uong Sam Company at 59/2 Binh Thanh village in the Mekong Delta Province of Long An's Thuan My District violated the law as he has been in self-isolation period but he was going to a restaurant.
Deputy Chairman Duc asked health workers to take samples of all employees of the restaurants and visitors. Police officers were requested to keep track of Japanese and Chinese visitors.
The inspectors also paid visits to restaurants and karaoke parlors in streets Suong Nguyet Anh, Bui Thi Xuan, Hai Ba Trung and Tran Nhat Duat in District 1 ; however, all of the venues closed the doors.
At the meeting with the Steering Committee for Covid-19 epidemic prevention in the city on May 5, leaders of Ho Chi Minh City will work with the People's Committee of District 1 upon punishment for violations in KTV restaurant.
Authorities asked people to strictly follow the Ministry of Health's instructions on Covid-19 epidemic prevention as well as coordinate with local authorities and functional agencies to monitor people coming from epidemic areas for effective preventative measures.
Two Chinese escaping from quarantine facility arrested
The Police of Cu Chi District in coordination with Ho Chi Minh City Police last night arrested two Chinese escaping from the concentrated quarantine facility in Cu Chi District.
Accordingly, the police forces detected and arrested these people who tried to evade capture by the police in Long An Province. After the arrest, the two Chinese were sent to a concentrated quarantine center in HCMC's Cu Chi District.
Accordingly, two escapees are among 11 Chinese illegal immigrants into Vietnam being found on April 30 and May 1. Through the investigation process, the police arrested additional two instigators involved in a ring bringing Chinese nationals into Vietnam illegally.
Hai Duong extends mandatory quarantine period to 21 days
Leaders of the northern province of Hai Duong has decided to extend mandatory quarantine period from current 14 days to 21 days for F1 individuals who come in direct contact with COVID-19 patients.
The decision was made on May 4 after the locality recorded two suspected cases of COVID-19.
One of the suspected cases was on the fight with two Chinese nationals from Da Nang to Ha Noi on April 29. The Chinese nationals tested positive after undergoing 14-day mandatory quarantine in Viet Nam.
Earlier the same day, the Ministry of Health asked localities to not to discharge those who completed 14-day quarantine from quarantine sites following confirmation of several positive cases with incubation period longer than 14 days.
Quarantine protocols will be renewed and announced later, the ministry added.
Hai Duong was Viet Nam's epicenter of the third wave of community transmissions with 720 cases./.
Sustaining economic gains amid COVID-19 of first importance: Official
Keeping the coronavirus at bay and sustaining economic achievements are now of the first importance to the government and the political system, from central to local levels, due to the complexity of the latest COVID-19 outbreak, Minister-Chairman of Government Office Tran Van Son told the monthly Government press conference on May 5.
The most important tasks are radically curbing the spread of COVID-19, protecting people's safety and well-being, striving to sustaining economic gains and boosting economic recovery, he said.
He also reported on Vietnam's economy in April and the first four months of 2021 which saw positive signs.
April CPI inched up 0.89 percent, the lowest level since 2016. Four-month State budget revenue made up 40.5 percent of the yearly plan and was 7.9 percent higher than the same period last year.
Four-month foreign trade grew by 29.5 percent year-on-year, with trade surplus reaching 1.29 billion USD. The Index of Industrial Production (IIP) spurred 24.1 percent in April and 10 percent from January – April.
The country has so far disbursed 18 percent of public investment, relatively higher than a year earlier, Son noted.
He urged relevant authorities to swiftly come up with measures to remove barriers in terms of legal institutions, mechanisms and policies so as to release resources for development; and at the same time, accelerate the progress of disbursement of public investment, particularly ODA, and speed up major projects.
More attention should be paid to helping farmers distribute their products, he said, adding that ministries and local administrations must also maintain a close watch on the development of prices of fuel and material products and make timely reports to the government in order to keep the inflation under control./.
HCM City supports OVs, Cambodian and Lao people affected by COVID-19
Ho Chi Minh City will spend 2.5 billion VND (over 108,000 USD) from its COVID-19 prevention and control fund to support Vietnamese expatriates and people in difficult circumstances in Cambodia and Laos who are affected by COVID-19, a representative from the Vietnam Fatherland Front Committee of HCM City announced on May 5.
A total of 1.5 billion VND will be offered to Vietnamese Cambodians and disadvantaged people in Cambodia and 1 billion VND to Vietnamese expats and Lao people.
HCM City previously presented 1.6 billion VND to Cambodia to support the country in its fight against the pandemic.
Meanwhile, the Vietnam Fatherland Front Committee of HCM City said it will provide aid of 1.5 billion VND to the city's Border Guard High Command to carry out COVID-19 prevention work.
On the same day, the committee organised two missions to visit and present gifts to frontline forces in the fight against COVID-19 in the border provinces of Long An and Binh Phuoc. Each province received 1 billion VND for prevention efforts and 200 million VND for solar-powered lighting projects./.
Memorial services held for fallen soldiers repatriated from Laos
Memorial and burial services for the remains of 24 Vietnamese volunteer soldiers and experts who laid down their lives in Laos during wartime were held at the Road 9 National Martyr Cemetery in the central province of Quang Tri on May 5.
The martyrs rested in peace at the Road 9 National Martyr Cemetery.
Their remains were found and repatriated by search team 584 under the provincial Military Command during the 2020-2021 dry season.
At the event, Vice Chairman of the provincial People's Committee Hoang Nam commended the soldiers' contributions to the Vietnam – Laos special friendship as well as the revolution in each nation.
Quang Tri province has held memorial and burial services for Vietnamese soldiers who died in Laos since 1993./.
Schools in Quảng Nam to reopen, Hội An and Đà Nẵng keep testing
All schools in Quảng Nam Province (except for those in Hội An) will reopen from Thursday (May 6) as 46 out of 47 close contact cases (F1) of two COVID-19 patients (No 2899 and No 2982) were isolated and tested negative for SARS-COV-2 as of Wednesday.
The provincial COVID-19 steering committee said only schools in Hội An will remain closed. All entertainment and tour services, as well as crowded events, are halted from Wednesday.
The committee said the wife of the COVID-19 patient (No 2982) in Hội An tested positive for SARS-COV-2 following a test result released on Tuesday (May 4).
The pregnant woman and her 11-month-old son have been isolated at a health centre in Hội An.
A section of Nguyễn Phan Vinh street in An Bàng Beach in Hội An was locked down from May 3 after a COVID-19 patient (No 2982) visited his home previously.
Meanwhile, Đà Nẵng began testing 400 people who worked at Phước Mỹ market in Sơn Trà district on Wednesday. The market was one of a number of places visited by a COVID-19 patient (No 2889, a spa therapist) between April 29 and May 2.
At least 100 residents in Hội An and Đà Nẵng went to Thiện Nhân medical centre for tests.
The city's education and training department asked for students to provide online health declarations.
At least 10 people in Đà Nẵng have been fined VNĐ1 million (US$43.5) each for not wearing face masks in public.
All bars, restaurants and shops in Đà Nẵng and Hội An – where the two COVID-19 patients visited – were disinfected on May 3.
Source: VNA/VNS/VOV/VIR/SGT/Nhan Dan/Hanoitimes
VIETNAM NEWS HEADLINES MAY 6 have 9493 words, post on vietnamnet.vn at May 6, 2021. This is cached page on WP Discuss. If you want remove this page, please contact us.