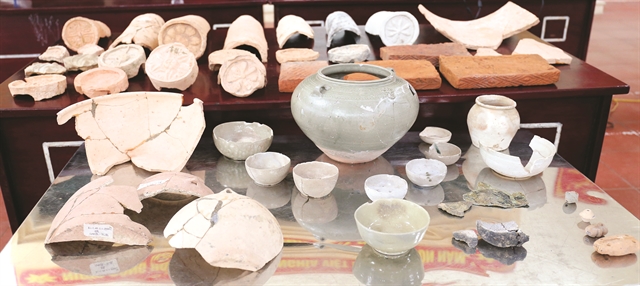 Some artifacts were discovered at the excavation of the Luy Lâu relic in 2018. VNS Photo Thanh An
Luy Lâu, a line of ancient ceramics from the northern province of Bắc Ninh's Thuận Thành District is reviving its historical, cultural and artistic values after many ups and downs, even facing the risk of disappearing as many master artisans pass away.
The traditional pottery line features the ancient royal era dating back 2,000 years, helping present generations understand the talent and ingenuity of their forefathers through the unique culture that once flourished in the Dâu area in Bắc Ninh.
Luy Lâu pottery is known as aristocratic as it is associated with the name of an ancient Vietnamese citadel — the Luy Lâu — during the northern Chinese domination period in the old land called Dâu in the 2nd century.
The old land located on the bank of the Đuống River, now belongs to Thuận Thành District, Bắc Ninh Province.
Field excavations conducted in 2016 in Thuận Thành showed that the Luy Lâu Citadel was the country's largest and oldest centre of politics, economics, trade, culture, and religion. Here lie the ancient Luy Lâu ramparts with the relics of the once splendid pagodas, residences and monuments.
A conclusion was drawn from the preliminary report conducted by archaeologists from the National Museum of History, the Bắc Ninh provincial Department of Culture, Sports, and Tourism, and Japan's University of East Asia.
In 2015, archaeologists collected a large number of architectural vestiges, such as bricks and tiles, and houseware, such as ceramics and cooking tools, dated between 100 BC and the 14th century.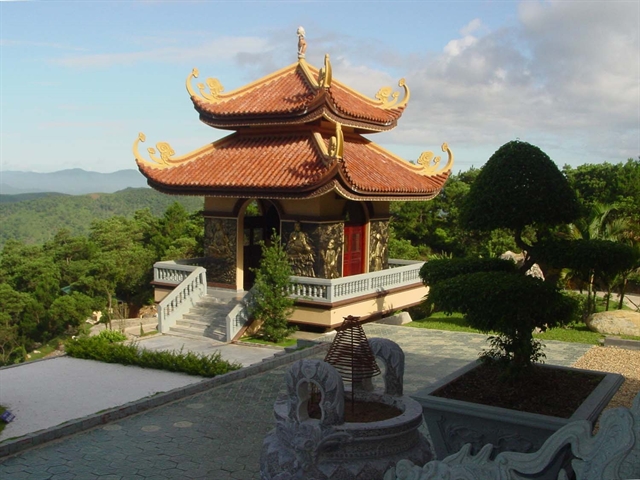 Part of the ancient Luy Lâu Citadel in Thuận Thành District, Bắc Ninh Provine after restoration. Photo baothainguyen.vn
Unique glaze
The Luy Lâu ceramic products were often crafted with fancy glaze, elegant and warm olive green colour by the most skilled artisans exclusively for the royals and aristocrats. The products were also used as materials for building temples, palaces and decorative artworks for royalty.
Although from the era when heating technology was still very rudimentary and after thousands of years of social and historical changes, this ceramic line is considered to be the epitome of technique and art.
Experts found that it took 300 years for the trade to revive since it disappeared in the 17th century in the ancient land of Luy Lâu .
"Luy Lâu ceramic is the finest of the traditional ceramic lines of ancient Việt Nam, and represents all the northern ceramic lines," said famous historian Dương Trung Quốc.
"As it was born more than two thousand years ago, Luy Lâu is one of the oldest pottery lines in the country, with many unique products showing a high standard of development in the art of shaping and burning," Quốc spoke to Nhân Dân (The People) newspaper.
Quốc recalled his late master historian Trần Quốc Vượng who devoted much time to the study of the ancient land of Luy Lâu in his lifetime. The master once said the red pottery products in the Dâu – Luy Lâu region were considered typical and exemplary, meeting the specific technical-artistic standards of the southern ceramic line that scientists have long named as Sông Hồng (Red River) pottery.
"So, in fact, Sông Hồng pottery is the Luy Lâu red ceramic line," the expert said.
Scientific seminars have been held inside and outside Bắc Ninh to help restore and develop Luy Lâu pottery. With the ancient ceramic products found during excavations in Nguyệt Ðức, Thanh Khương of Hà Mãn communes of Thuận Thành District, archaeologists and historical researchers noticed the outstanding features of their colours with green olive enamel.
However, they also found that due to many historical incidents, including the fall of the northern domination, the Luy Lâu pottery line seemed to have moved through the Luộc, Ðuống, Thái Bình rivers to settle and make new ceramic centres in Hải Dương and Thái Bình provinces.
Through scientific research, local leaders and artisans came to a common conclusion that it is necessary to create typical products for the brand name "Red Pottery in Dâu – Luy Lâu Region".
Experts have also affirmed that Luy Lâu pottery will develop well in the future, particularly during the world integration period.
Pioneer preserver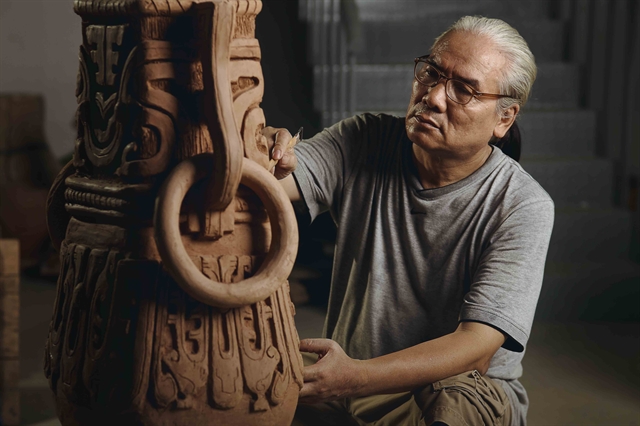 Luy Lâu pottery artisan Nguyễn Đăng Vông. Photo vov.vn
Today, more and more artisans have engaged in studying and preserving the traditional craft. One of them is the pioneer Nguyễn Ðăng Vông who is considered by his community as the man of the Dâu ceramic.
Born in Thuận Thành District, the artisan has devoted dozens of years to restoring and preserving the traditional occupation of his ancestors.
"Actually when I was a child, I did not have any inclination about pottery at all until 1971 when Prof Trần Quốc Vượng and his archaeologist team returned to my hometown in Hà Mãn Commune to excavate and find artefacts of Luy Lâu ancient citadel," Vông said.
"My friends and I were very excited to see them working. The professor talked with local people in the Dâu region about the history and beauty of Luy Lâu pottery. I was among them feeling so enchanted that I wanted to restore the pottery line of my hometown."
After graduating from the Faculty of Fine Arts, the Hà Bắc College of Culture and Arts in 1980, Vông said his passion for pottery was in his blood, making him travel everywhere to learn about the Luy Lâu – Dâu region.
He wandered around many museums to learn about ancient ceramics. Sometimes, he stayed in many famous pottery villages of the northern region such as Bát Tràng, Phù Lãng, Chu Đậu and then went to Thổ Hà in Vinh Phúc Province to learn about pottery and how to make it.
"I know that I must listen to and keep contact with national historians and archaeologists to learn about the history and unique features of Luy Lâu pottery. I had many good chances to be instructed by Prof Vượng and historian Quốc," he said.
The celebrated artisan has put all his heart and talent into discovering and restoring the ceramic glaze of the Luy Lâu pottery. He has successfully found that the glaze is made of extracts from assorted ash, mulberry tree wood in the local Dâu-Keo area.
The main pottery clay is also taken from the land of the Dâu area, with a little bit of gravel from the forest and scallop shells of the sea then decorated with artistic drawings.
According to artisan Vông, through many trials with both failures and certain successes, up to now, the products can reach the completion level of 80-90 per cent similar to the predecessors' original Luy Lâu ceramics.
"Such glaze is really unique, unlike any other in Việt Nam and in the world. From nearly 40 years of my research and through excavations and seminars, historian Quốc also said that Luy Lâu pottery has become a historical brand since 2,000 years ago," Vông said.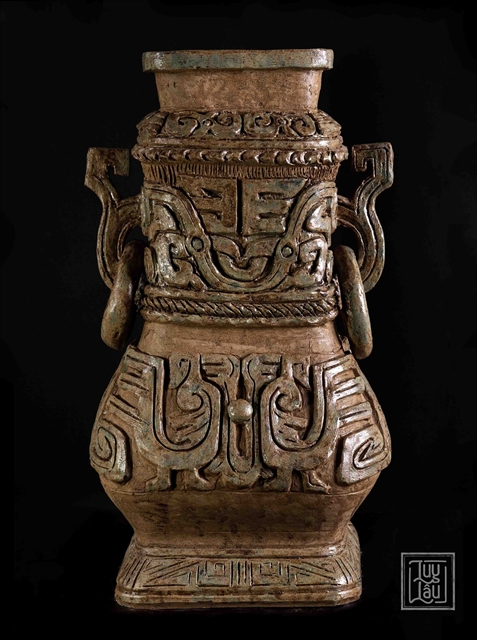 One of the Luy Lâu ceramic products made by the Luy Lâu Ceramic Co-operative. Photo courtesy of the co-operative
The artisan established the Luy Lâu Ceramic Cooperative in 2006, which recruited many young people to study the Luy Lâu traditional pottery. From there, new generations will follow the pottery occupation making it develop into a brand name.
The co-operative produces about 10,000 items of 10 product categories every year.
Prominent among his works is a 2.2-tonne ceramic vase, which was on display during the celebrations of the Hà Nội city millennium anniversary in 2010.
Luy Lâu ceramics have appeared in major domestic, regional and international events including the APEC and WTO economic forums and meetings.
They are also loved by domestic and foreign customers winning many contracts to be exported to France, Germany, Japan, South Korea, and the US.
They also won prestigious awards for their quality and cultural and artistic value including the Viêt Nam Golden Globe Awards 2005, Việt Land Gold Star Awards in APEC exhibition 2006, Việt Nam Elites Awards in WTO exhibition 2007, Việt Nam Iconic Entrepreneurs and Businesses Golden Awards 2008, and was one of the 10 major products in the Thăng Long Grand Millennium Ceremony in 2010. VNS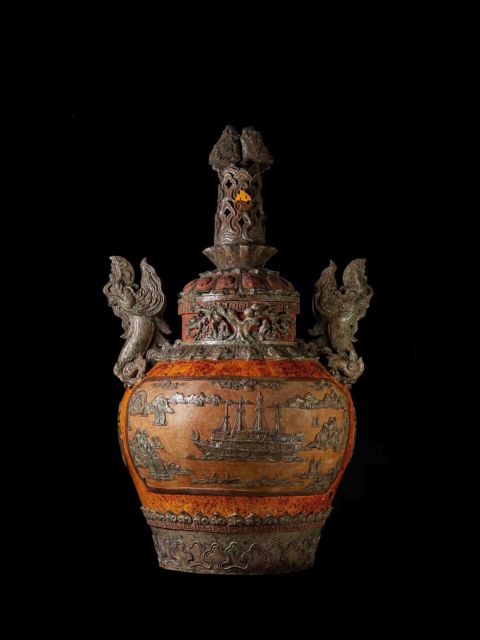 The ceramic glaze of the Luy Lâu pottery is really special and unique, unlike any other products in Việt Nam and in the world. Photo of the Luy Lâu Ceramic Co-operative
Luy Lâu ceramics feature the soul of an ancient citadel have 1584 words, post on vietnamnews.vn at June 27, 2021. This is cached page on WP Discuss. If you want remove this page, please contact us.